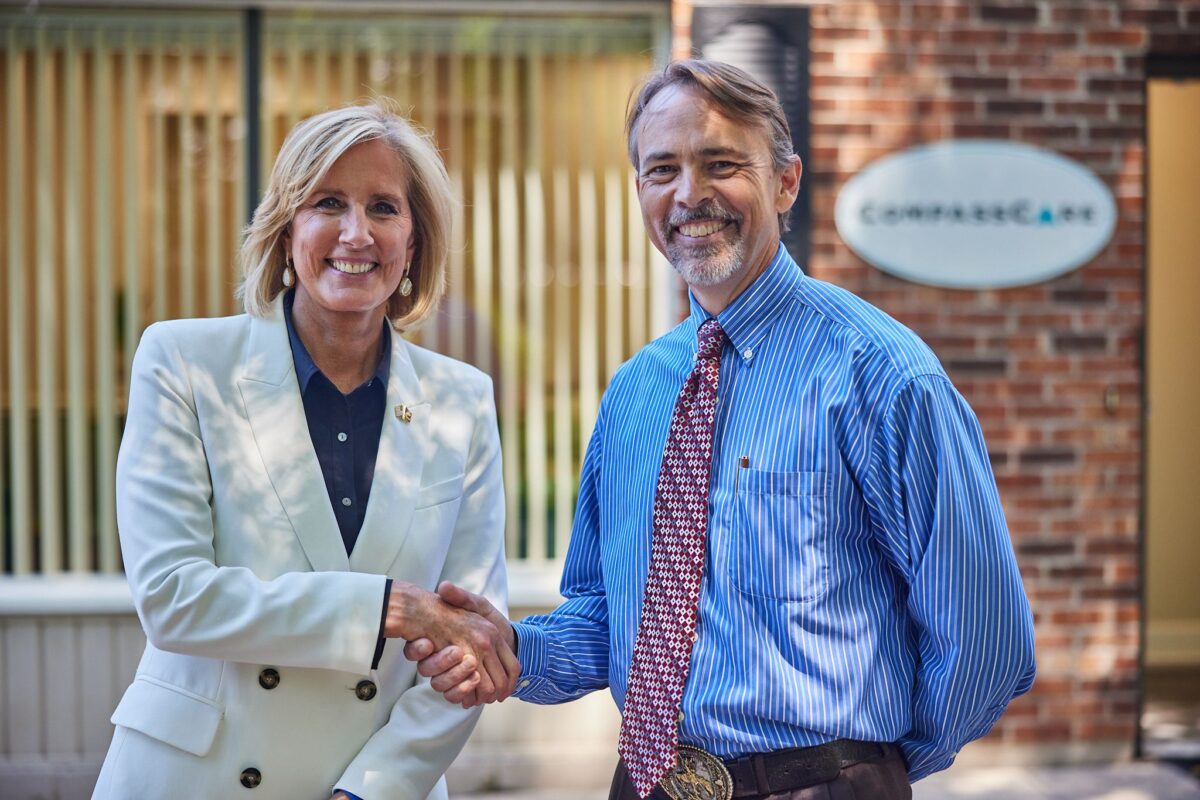 'We need to start valuing people again,' says CompassCare CEO as center recovers from firebombing
As CompassCare's Buffalo office reopened months after it was burned down, the Reverend Jim Harden, president and CEO of the pregnancy service provider, vows to continue his work and calls on Americans to value human lives.
"This is the most important cultural moment for 150 years," he told The Epoch Times.
Respecting human lives, including unborn ones, will not only benefit the United States economically, but will also help restore respect in society.
"There is no sustainable economic model for a stable or declining population base in any nation. The basic unit of an economy is a human being," he said. "[However] it's not just that we want healthy economies, it's because we want healthy people, we need to start valuing people again. That's when we'll start to see those mass shootings start to go away, we'll start to see respect for the police again, we'll start to see respect for ourselves again, we'll start to see suicide rates drop.
The Buffalo office, which provides ethical medical care and comprehensive community support to women considering abortion, was burned down by pro-abortion activists on June 7.
The building was heavily damaged by fire and vandalized with pro-abortion graffiti.
Harden said he also received death threats.
Reenactment
It took almost two months and cost half a million dollars to reopen the office.
"The reconstruction took 52 days. The fire was widespread, smoke damage was extensive, damaging facilities and all contents. So we had to dump the facility and start over," he said.
The rebuilding process has also been slowed due to supply chain issues, material shortages and labor shortages.
However, CompassCare has also secured generous assistance for alternative medical space and to restore the original facility of a church and people in Buffalo.
Jane's Revenge, a self-styled umbrella group for some pro-abortion groups, appeared to claim responsibility in a statement posted online six days after the attack.
When the office reopened, Harden promised to continue CompassCare services.
"We're not going to stop just because we have government actors and domestic terrorist groups that are violent and don't agree with us," he said.
No arrests after 50 attacks
The FBI did not arrest any suspects after the June 7 firebombing, the government launched an investigation against CompassCare instead, Harden said.
The FBI's handling of the CompassCare case is not unusual.
According to a list compiled by the CEO of CompassCare, there were 50 attacks on pro-life organizations nationwide between 2021 and 2022.
The FBI did not arrest anyone after these attacks.
Incidents on the list include one that occurred in Madison, Wisconsin on May 8, in which a pro-life political action committee was set on fire and vandalized with graffiti.
The FBI sent The Epoch Times a statement saying they were "investigating a series of attacks and threats against pregnancy resource centers, faith-based organizations, and reproductive health clinics across the country."
When asked to confirm whether any arrests were made after the attacks on pro-life organizations, the federal law enforcement agency told the reporter to check public records.
The public court information system, including Public Access to Electronic Court Records (PACER), shows no records of arrests after attacks on pro-life groups.
However, in contrast, when a pro-abortion organization was attacked in Kalamazoo, Michigan, authorities acted very quickly.
A suspected arsonist was arrested within four days after fires were started at a Planned Parenthood in Kalamazoo in July.
"I'm glad they found the potential attacker. [in the Parenthood case]. But what are they doing for us? Over 50 attacks on pro-life organisations, not a single arrest," he said.
Politicization of law enforcement
Harden said the double standard in law enforcement shows that federal law enforcement has been politicized and the trend is concerning.
"We believe in justice; we want justice done," he said.
Conservative politicians and activists share Harden's concern about the FBI.
US Senate Judiciary Committee member Chuck Grassley (R-Iowa) warned that the FBI is losing public trust after years of politicization in a statement following the FBI raid on former President Donald Trump's Mar-a-Lago residence.
"If the FBI is not extraordinarily transparent about its justification for yesterday's actions and committed to rooting out the political biases that have infected their most sensitive investigations, they will have sealed their own fate." The FBI's mission and the many patriotic agents working hard to carry it out will forever be overshadowed by the mistrust the bureau has sown," he wrote on September 8.
The top Republican urged FBI Director Christopher Wray and Attorney General Merrick Garland to maintain full transparency.