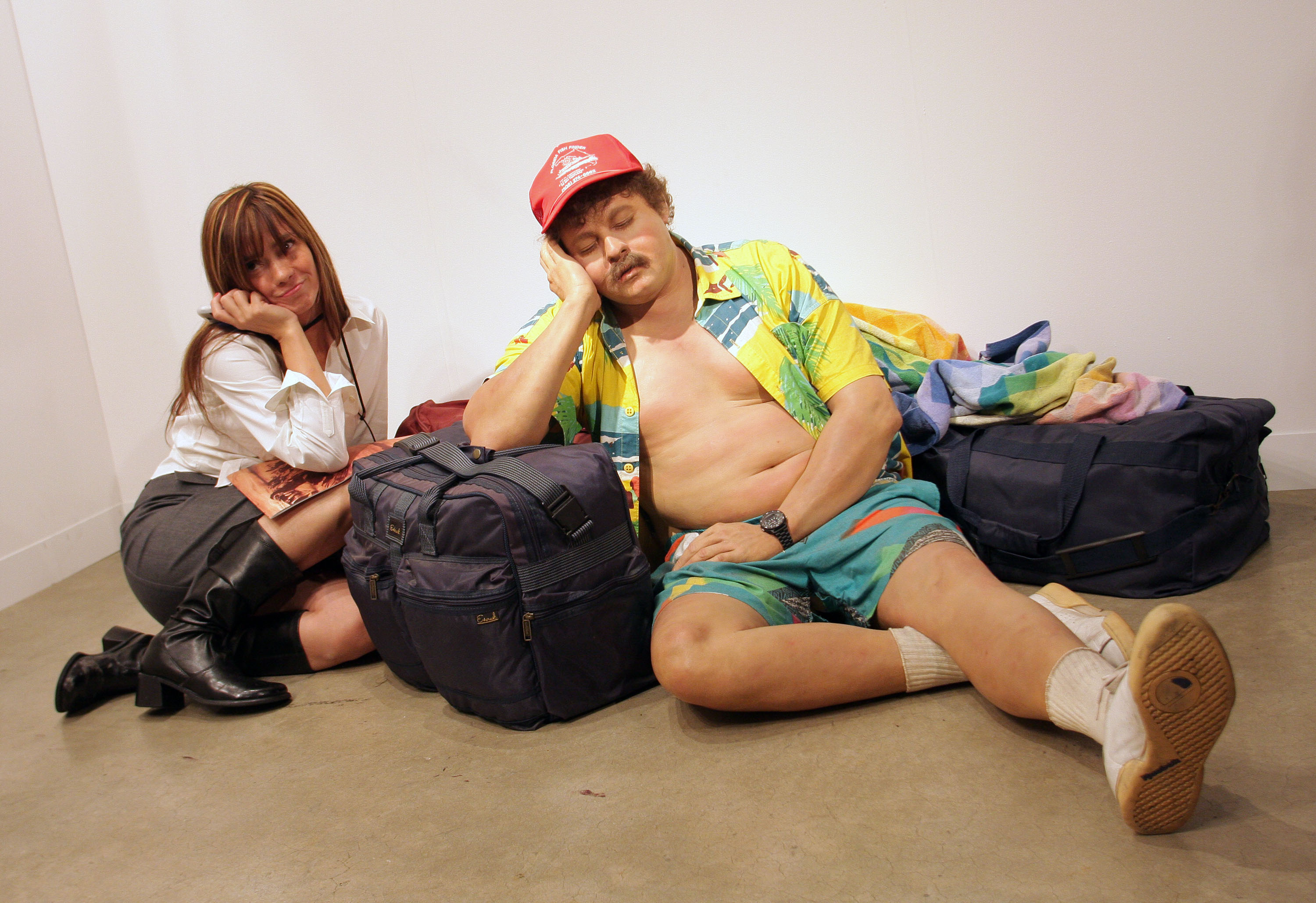 Realistic sculpture that looks exactly like a real person confuses the internet
[ad_1]
A statue at Orlando International Airport has confused viewers after a video of the hyperrealistic tourist went viral online.
TikTok user @marvelousmousetravels shared a video of what looked like a sleeping passenger with bags in tow taking a sneaky nap at the Florida airport. But there is more to it.
"Who else still thinks this guy is real at the Orlando airport?" The user wrote in the video.
"Omg, isn't that real? I need the history on this," wrote one confused viewer.
He might look real, but the Sleeping Man is actually a hyper-realistic statue by sculptor Duane Hanson. Orlando International Airport has owned "The Traveler" since 1986, where it is located in the Lobby of Terminal A between East and West security checkpoints.
American artist Duane Hanson died in 1996, but was renowned for his creations of hyperrealistic statues of ordinary people. Hanson would make casts of real people in polyester resins with fiberglass, then spend endless houses painting the figures in extreme detail.
Orlando International Airport's "The Traveler" is one of two depictions of a sleeping traveler by the artist, who created a similar stature two years later. The second, however, is a little less appropriate outfit at the airport, wearing nothing under his completely undone shirt.
The statues were in polychrome oil bronze, found clothes, hair, duffel bag and sleeping bag, wooden sticks and paper tickets.
The traveler doesn't match the expectations of what a muse should look like, but neither does Hanson's subject matter. The sculptor had a penchant for capturing America's man and woman – bathers, waitresses, car dealers and more.
Orlando Airport is also not the only one to boast of having a Hanson sculpture, as the Fort Lauderdale / Hollywood International Airport has owned "Vendor with Walkman" since 1990, where it is located at departures from Terminal 3. As the name suggests, the sculpture captures a man straight out of the 90s listening to his Walkman casually dressed, looking rather tired of traveling.
The video for "The Traveler" has been viewed over 290,000 times at the time of publication, and although many were confused, some immediately recognized the man.
"Is he still there? I saw him when I was there 20 years ago," wrote one TikTok user.
"I was a little freaked out when I arrived in Orlando in 2019," added another.
[ad_2]