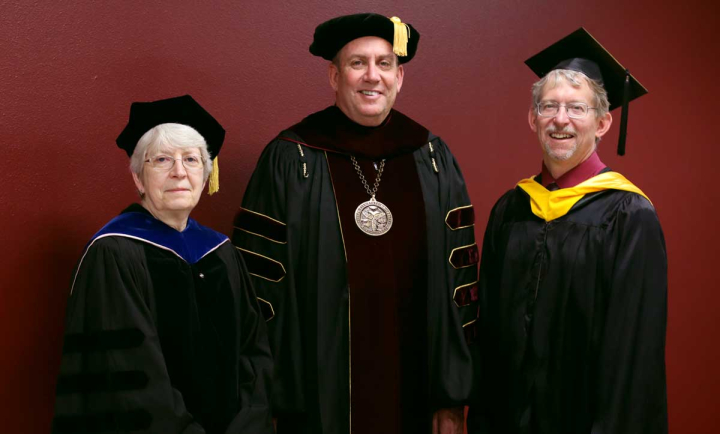 Larry Brooks will be the next Vice President for Academic Affairs
News
May 16, 2022
Valley City, North Dakota – Valley City State University (VCSU) has selected Larry Brooks as its new Vice President for Academic Affairs (VPAA). Brooks will begin transitioning into the role with current VPAA Dr. Margaret Dahlberg in June. Dahlberg will retire this summer after 26 years on campus. Dahlberg held several positions at VCSU, including serving as interim president on several occasions.
"We are grateful to Dr. Dahlberg for his dedication to VCSU during his time as a faculty member, trustee, and interim president," LaFave said. "Margaret's leadership, dedication, integrity and commitment to quality academic programs have benefited generations of students. We wish him the best for his retirement.
Brooks has over 30 years of experience in higher education. Most recently, he held the position of Associate Dean of Academic and Student Affairs at Dakota College de Bottineau (DCB).
"Larry brings a heart for partnerships, collaborations and student success that will serve him well in this new role," said VCSU President Alan LaFave. "Larry also brings decades of experience in higher education and specifically in the North Dakota university system, which will greatly benefit our campus. I am confident that his experience and vision will lead academic affairs to success. »
"I am honored to join the VCSU team and look forward to being part of an institution with an exceptionally bright future," said Brooks.
In addition to being associate dean at DCB, Brooks was assistant professor of biology. He has participated in two successful Higher Learning Commission (HLC) accreditation site visits and served three terms on the Bottineau Public School Board and Chairman of the Board of the North Central Area Career and Technology Center.
Brooks was also recognized for his leadership and service. He received the Phi Theta Kappa Distinguished College Administrator Award (2021), the DCB Staff Excellence Award (2019), the Bottineau Chamber of Commerce Distinguished Service Award (2018) and the DCB Faculty Excellence Award (2012). He earned a bachelor's and master's degree in zoology (fishing and wildlife option) from North Dakota State University.
The VPAA guides all academic departments on campus. VCSU offers more than 65 undergraduate programs, three graduate degrees, and several certificates and extended learning options.
For more information about VCSU or to arrange an interview, contact Tammy Jo Anderson Taft at [email protected]