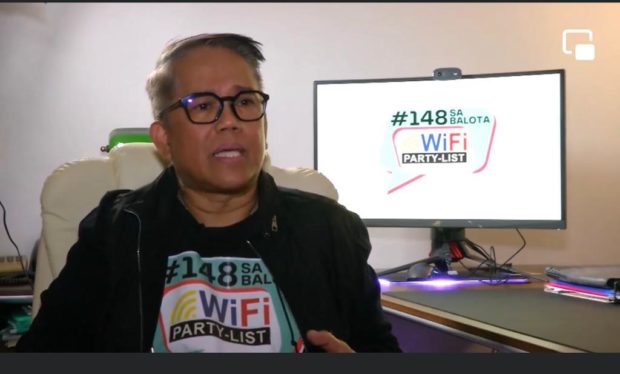 Internet Connectivity Key vs Corruption, According to a WiFi Party List
MANILA, Philippines — Party List WiFi #148 advocating communications and internet connectivity for Filipinos said on Monday that a nationwide digital network was essential to combat corruption in government.
WiFi (Walang Iwanan sa Free Internet) Partylist said Internet-based digital transactions can help reduce, if not eliminate, the problem of corruption in public offices.
Reducing human contact in government reduces bureaucracy and opportunities for corrupt practices, as digital transactions limit the personal discretion that is at the root of most illegal transactions, the group pointed out.
"Filipinos are penalized due to piles of paperwork just to get a simple permit. It is tedious and frustrating especially when an applicant loses a document. It is also an incentive for corruption to speed up the process," pointed out the group's first attorney, Ted De Leon.
As the broadband network to connect all government offices is being built, De Leon said the WiFi party list will offer subsidies to marginalized families for internet spending to enable education to continue. their children.
"The internet has become a commodity in this era of rapid technological development coupled with episodes of contagion," he said.
When the pandemic hit, De Leon said broadband technology spanning education, communications, health and entertainment became a necessity to put people at a safe distance from each other to prevent the viral spread.
But the lack of a state-owned internet backbone linking the whole country has created a huge gap in services, mainly for secure communications between agencies in response to the health crisis and in distance learning. .
De Leon said households were incurring additional expenses while coping with slow services for Filipino children continuing their education while housebound.
"It took the pandemic to highlight the importance of internet connection. The country was caught off guard in implementing e-learning with all the problems that involved making it inefficient," he pointed out.
As such, WiFi Partylist said it will pursue building a national broadband system if it wins a congressional seat.
The group said many years ago that the National Broadband Project was scrapped not because of the concept behind it, but because of corruption concerns.
RELATED STORIES
Poor internet connection forces the suspension of online courses
'No longer in last place': DICT sees improved internet access PH
Palace briefing cut short due to internet connectivity issues
Internet: overcoming pandemic-related blockages
Subscribe to our daily newsletter
Read more
Subscribe to INQUIRER PLUS to access The Philippine Daily Inquirer and over 70 titles, share up to 5 gadgets, listen to the news, download as early as 4am and share articles on social media. Call 896 6000.
For comments, complaints or inquiries, contact us.