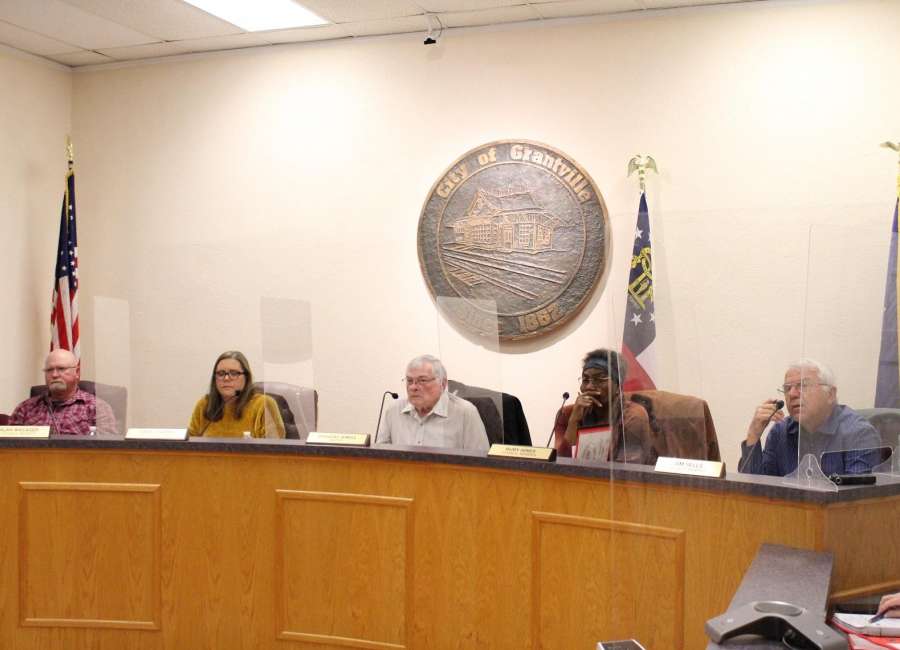 Grantville council plans to double term of sewer credit
Jeffrey Cullen-Dean/The Newnan Times-Herald
Grantville City Council is considering changing sewer reimbursement procedures. Left to right, Alan Wacaser, Casey Evans, Mayor Doug Jewell, Ruby Hines and Jim Sells.
Sewer reimbursement procedures in Grantville may change.
At its Feb. 14 business meeting, Grantville City Council discussed changing refund procedures if a Grantville resident is incorrectly charged for sewer use, even though their property has a septic tank. in place.
Currently, after a resident notifies the city and the error is verified, they will receive a sewer credit for 12 months prior to notification, according to City Manager Al Grieshaber.
Council member Jim Sells said he felt the 12-month credit was not long enough and wanted it doubled.
The charges are a mistake by the city, he said, and it becomes the responsibility of the resident because the city is unaware of the accidental charge.
"Half the people in this town are poor. … When they find out, I'm sure they'll be aware enough to have it removed," he said.
Councilman Alan Wacaser said homeowners should know if they have septic systems or rely on city sewers and expressed concern about how much the city might have to pay back.
"If there's a lot of it, it could become financially crippling. The landlord should have some responsibility in that regard to find out if they have a septic tank or if they're hooked up to city sewers," he said. -he declares.
City Attorney Mark Mitchell said the delay is likely to prompt the landlord to come forward and notify the city as soon as possible.
"If you rely on longer periods, it creates a chilling effect," he said.
Mitchell added that if council were to move forward with the changes, then they should consider having a comprehensive policy for all utilities, not just sewers.
Robi Higgins, City Clerk of Grantville, suggested conducting a sewer audit at the council and comparing Geographic Information System data from Coweta County and the City of Grantville to determine which properties have sewer access and which properties are on septic tanks to correct errors.
The matter will be voted on at the February 28 board meeting.