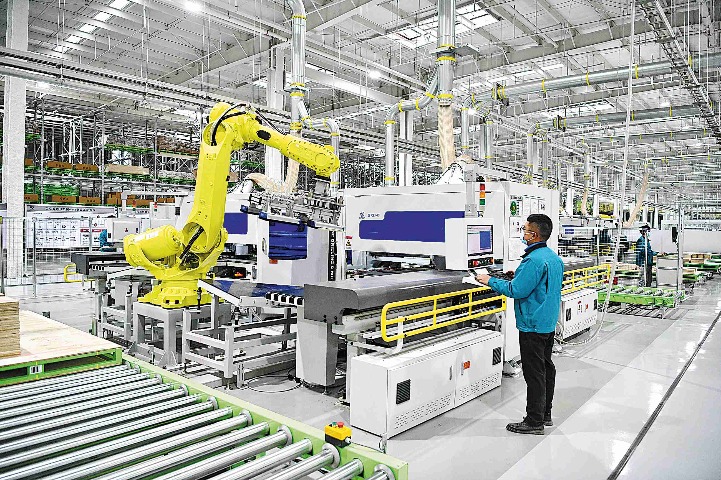 5G, the industrial internet that is helping transform heavy industries
The labor-intensive steel industry, a symbol of the Second Industrial Revolution, was often associated with images of workers toiling in factories, sweat streaming down their faces.
But now, at a steel company in Xiangtan, Hunan province, a completely different picture is emerging, one that offers a glimpse of how cutting-edge technologies like 5G and the industrial internet are transforming traditional heavy industry. .
In Hunan Valin Xiangtan Iron and Steel Co's control room, four technicians use joysticks to remotely control overhead cranes that move back and forth through a nearby high-temperature factory. Via a large screen that presents real-time video of factory operations, employees monitor processes and all equipment moves in an orderly fashion.
"Previously, the control center had to be placed in a steel mill to enable it to control the process without delay. We had to work in an environment with scorching temperatures, loud noises and dust. But all that changed due to the 5G network," said Liu Jiwen, manager of the company's 5-meter wafer production plant.
According to Liu, the low latency and high bandwidth of 5G means that the control center can now be located in a comfortable room outside the factory, and one employee can operate several overhead cranes remotely. simultaneously, which greatly improves efficiency.
The plant is one of 2,400 5G+ industrial internet projects currently under construction in China, as the country steps up its industrial upgrading drive in a bid to facilitate the marriage between digital technologies and traditional sectors.
The Industrial Internet refers to the convergence of industrial systems with the power of advanced computing, analytics, sensing, and new levels of connectivity.
This jargon was once known only to insiders in the telecommunications industry. But now the term has a wider resonance with people from a wide range of sectors, with frontline workers such as employees of the Hunan Valin Xiangtan Iron and Steel Co above particularly benefiting from the technology.
With the growing application and integration of 5G and industrial internet technologies, factories in China are becoming increasingly digital, internet-connected and smart, experts and business executives said.
The use of machine vision technologies, the automatic inspection of industrial products or the operation by workers of 5G-enabled unmanned electric locomotives in underground mines to transport gold ore are all examples of industrial production. which becomes more effective and safer in reality, they added.
Zhao Zhiguo, spokesperson for the Ministry of Industry and Information Technology, the country's top industry regulator, said the Industrial Internet has been applied in 45 sectors such as manufacturing, health, energy, smart ports and mining. It not only helps enterprises improve quality and efficiency as well as reduce costs, but also promotes the coordinated and efficient operation of upstream and downstream industrial chains.
"Industrial Internet has been widely used in research and development, design, manufacturing and enterprise operations management, with 5G accelerating its influence in key areas of production," Zhao said during a meeting. press conference last month.