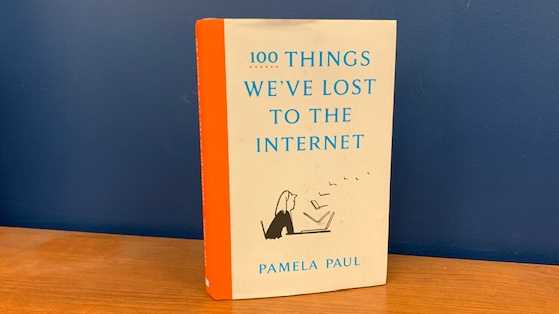 100 Things We've Lost on the Internet with Pamela Paul
Are you old enough to remember times past? Before time – like before the Internet. If you are, then this interview is for you. If not, then this interview is for you. Pamela Paul is the author of "100 Things We've Lost on the Internet". It's a collection of 100 essays about things we no longer do or need because of the internet. She writes about everything from Rolodexes to answering machines to having trouble remembering an actor's name on TV before you can Google them. Pamela recently took on the role of full-time opinion editor for The New York Times after working as the Book Review's editor and overseeing book coverage for The Times. The idea for "100 Things" grew out of an essay she wrote about the lost art of boredom titled "Let Children Get Bored Again." The result is a fun stroll down memory lane for some and a true history lesson for others. Either way, it's a great reminder of how much our lives have changed in a reasonably short period of time. On this Dying to Ask podcast: The viral NY Times article that sparked the idea for this book the relationship with the internet is a powerful tool for bridging generational differences
SACRAMENTO, Calif. —
Are you old enough to remember times past? Before the times – like before the Internet.
If you are, then this interview is for you. If not, this interview is for you.
Pamela Paul is the author of "100 Things We've Lost on the Internet".
It's a collection of 100 essays about things we no longer do or need because of the internet. She writes about everything from Rolodexes to answering machines to having trouble remembering an actor's name on TV before you can Google it.
Pamela recently took on the role of full-time opinion editor for The New York Times after working as the Book Review's editor and overseeing book coverage for The Times.
The idea for "100 Things" grew out of an essay she wrote about the lost art of boredom titled "Let Children Get Bored Again."
The result is a fun stroll down memory lane for some and a true history lesson for others. Either way, it's a great reminder of how much our lives have changed in a reasonably short amount of time.
On this Dying to Ask podcast:
The viral NY Times article that sparked the idea for this book
Pamela's takeaways on our internet connections
Why acknowledging your relationship to the internet is a powerful tool for bridging generational differences